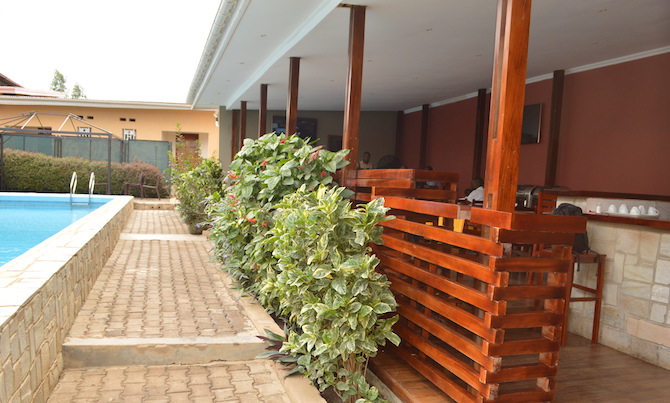 About us
Located 2 minutes from the airport and 5 minutes from the city center (3 km), BUNIA EXECUTIVE LODGE enjoys a privileged location in a peaceful and safe area of Bunia.
You will find everything you need during your stay in our hotel. In addition, it is possible in just 10 minutes to reach the city's business center: banks, shops and more.
Our team invites you to discover a peaceful and serene environment where warm welcome, smile and availability coexist daily in a family atmosphere.
BUNIA EXECUTIVE LODGE is a friendly hotel, but also a quality restaurant that offers Congolese cuisine along with other specialities prepared with fresh products.
The entire lodge will offer you, in its unique setting, an incredible stay within tranquillity, safety and peace of mind.
The difference between something great and something exceptional, lies in the attention that can be given to the details …
At Bunia Executive Lodge, we created the difference.
Highlights of our strengths:
An exceptional environment
Multiple services (swimming pools, conference, restaurant, etc.)
Staff availability all time
Extraordinary furniture
A privileged relationship with customers
Come visit us and take a testimonial!
Reception
Our dedicated team warmly welcomes you all week long.
We will be happy to help you make your stay in Bunia as memorable as possible.
Hotel accessible to people with limited mobility
Reception opens continuously, every day of the week
Parking nearby (near the paddock and inside)
Concierge Services
Luggage storage
Free Wi-Fi connection
Multilingual staff
Pets are not allowed
Booking
You can book a room by writing to us on our contact form and we will get back to you.